HOW TO PICK FURNITURE FOR YOUR CHILD'S BEDROOM?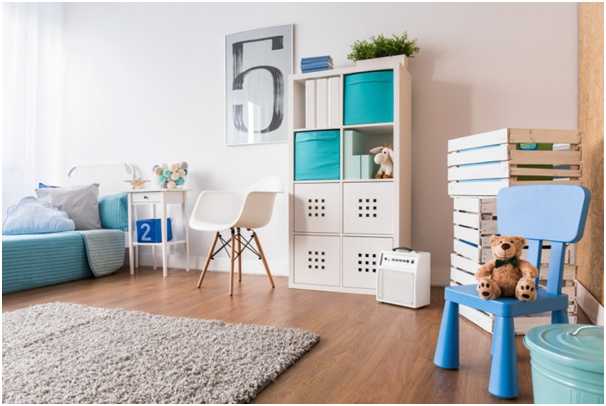 It's fun for both the parents and the kid to pick up furniture for the children's bedroom. Many furniture and home furnishings manufacturers specialize in children's bedroom goods that live up to expectations and appeal to masses. Investing in an elegant and sturdy collection of bedroom furniture that can fulfill children's function today and years ahead requires thoughtful planning and organizing. A proper inspection of each furniture piece to assure that there are no rough edges would provide reassurance. Inspect the cabinets and see if they can be operated effortlessly and provide sufficient room for clothes and storage. While picking furniture, consider the fact that the sturdiest children's bedroom furniture sets are made of solid wood.
Build them a bedroom that grows with them
Pick a good children's bedroom collection that is multipurpose and evolves with the needs of the child. Think of a layout that suits the design of the room. Storage cabinets, drawers, and bookshelves can store stuffed animals and other plush toys when the kids are young, and school books and electronic devices as the children grow older. When you consider buying children's furniture items from a known manufacturing company, you often get the option to upgrade sections that complement the set at a future stage.
Finalize a look
Before selecting a kids furniture set, it's a great idea to plan a look for a room that matches your children's persona. For instance, a girl who loves everything fancy, girly, and lots of ruffles and frills would have a completely different room from a girl who likes the airy, marines, and aquatic blues.  Whatever the choice might be, it must complement the child's innate nature. The furniture and the room must speak volumes about everything the child loves.
Bed options
You must ask them if they like sleeping on the top of a bunk bed or a regular bed. Something that serves the purpose of both is a sofa bed. The benefit of a sofa bed is that it can be used as a cozy bed and a comfortable play area or gaming arcade of his own. Sofa beds can also be folded and turned into a sofa and save a lot of space for him to run and walk around. Many of the bunk beds provide storage space for garments or games. A standard twin bed with a headboard and a footboard can become the focal point of his or her bedroom. Some twin beds have compact storage drawers underneath and can be used to store a lot may items in them.
Selecting the right furnishing accessories
Children's bedroom collections sometimes come with the same features as adult bedroom furniture, and retailers can provide even more options. The standard furniture collection includes a chest of drawers, a bed, a side table, and a dressing table. Some manufacturers offer extra goods such as a desktop table and chair, a vanity and a bench, and a bookshelf. Accessories such as mirrors also may be available. Even before finalizing your options, be prepared to consider as to what your child would need as he or she grows older.
Do your Homework
Designing and choosing furniture for your kids' bedroom is not rocket science. All you need to is plan a layout for the bedroom. Design a bedroom that has a lot of space to move and play around. Make sure you do not buy heavy and extravagant furniture that your kids might not be able to enjoy thoroughly. If your kid is old enough to test the furniture, do take them along for furniture shopping. It is all the more important that get to practically check it before you finalize it.
Author Bio:
Naresh Prashar is marketing manager of E-Living Furniture, a leading online portal for affordable and elegant furniture for all types. Now a busy businessman, he loves to travel around the world and write on related topics whenever finds some time from his busy schedule.