3 Types of Ceramic Tiles and Their Applications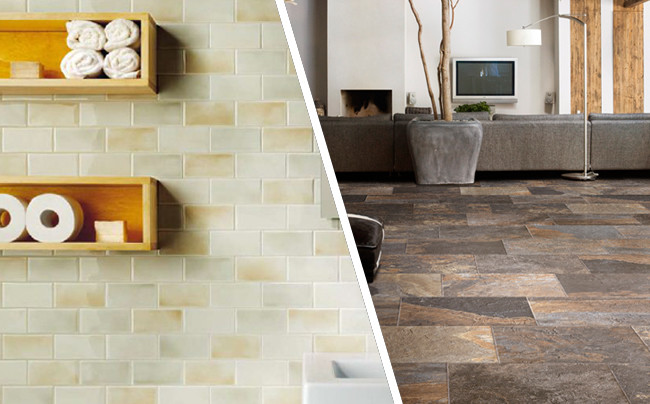 Ceramic tile offerings are increasingly becoming spectacular with the entry of new variants, designs, types, styles etc. Customers are spoilt for choices and style alternatives. With a wide range of textures, sizes, shapes, and even patterns to choose from, ceramic tiles are seeing a demand like never before. Some of the best varieties can be found at Ceramique au Sommet tiles in Montreal.
While many people prefer to opt for ceramic tiles, very few are aware of the types available and theirapplications. If you are looking for some insight into this, read on and find out.
Glazed Ceramic Tiles
These have a coat of glass-forming minerals with a hint of ceramic stains. Usually, these variants come with a matte or glossy finish ranging from semi glossyto highly glossy. These can remain free of stains or any kind of moisture as compared to an unglazed ceramic tile. Glazed tiles come with different finishes, sothese are one of the most preferred types. High gloss finish category could turn out to be slippery with visible scratches. In comparison, the matte or textured finish would generally not get scratches or visible dirt.
Unglazed Ceramic Tiles
These are generally very hard and sometimes also dense. You will generally find different surface treatments and many textures in these. They are generally installed in the exteriors of homes since they cannot offer much protection when it comes to stains. These offer decent slip-resistance and they generally do not require any form of sealing. Unglazed tiles tend to have unfinished exteriors and are preferred in areas such as bathrooms while looking for interior tiling. These are apt for areas, which have more traffic or usage.
Porcelain Tiles
These come under the ceramic tile bucket and are one of the densest tiles available. Since the color in these tiles enters all the way, they tend to be non-porous and surprisingly resistant to scratching. These are also good at withstanding any kind of temperature extremes.
Each of the ceramic tile types offers unique characteristics and need to be chosen based on specific requirements and interior choices. Ceramic tiles could be used for different applications and therefore need to be chosen based on their resistance levels to heat, damp surroundings etc. It makes sense to be aware of the variants available and each of their qualities before making a purchase.