5 Unique Ideas To Use The Cherner Counter Stool In Your Homes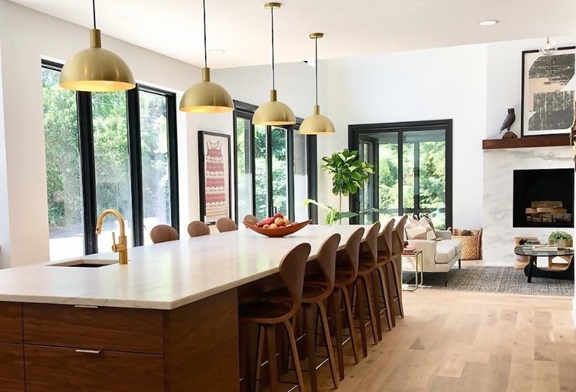 It's always a challenge to feature an iconic piece of furniture in an interior design that suits its class and aura. Similar is the case with the Cherner Counter Stool, which is a veritable masterpiece and timeless deliverance of the midcentury modern era. If you love this stool as much as we do and are searching for unique ideas to incorporate it in your homes, then here are a few inspirations for you:
Pair it with a tall table
While many people instinctively pair the Cherner Counter Stool with a breakfast bar or a kitchen island, you can make yours stand out by pairing with a tall table. Instead of going for a typical dining table with conventional chairs, you can design a customized and incredibly stylish tall table that resides close to or within your kitchens. The Cherner Counter Stools would make an excellent accompaniment to it. This image showcases the perfect example of this idea!
Accentuation wins the day
At its heart, the Cherner Counter Stool is an accent piece. This is why it pairs well with other accent pieces.  Just take the example of this image – the wooden texture of the stools really contrasts stunningly with the gold of the pendant lights. This makes the overall ambiance that much more interesting!
Dining table come kitchen island
This unique dining table come kitchen island is what luxury home dreams are made of. The white stone top, wood textured bottom, and overhead pendant lights create the best combination. It's complemented by the stylish presence of the Cherner Counter Stools on either side. It beats the need of a traditional table and provides ample sitting space even for a large family gathering,
Breakfast bar with a trendy twist
This dining table come breakfast bar is the perfect to showcase some tall and trendy Cherner Counter Stools. The minimalist design of the table along with its marble textured finish immediately exudes a lush aura. This is contrasted by the tall, dark, and handsome designing of the stools. Instead of just furnishing the seats at one end of the bar like convention dictates, this nook has been turned into a stylish 4 seater where you and your family can enjoy mealtimes with ease and flair!
U-shaped kitchen bars
This idea is a full, wholesome inspiration that can help you design a gorgeous kitchen! It's an inverse U-shaped layout, where instead of the countertops being stuck to the wall, it's the kitchen island that is designed in a large, luxurious U-shape layout. The Cherner Counter Stools only add to the overall aesthetic of this layout with their sleek, modern presence.  They also contribute to the innovative additions to the overall island design and make an impactful foreground!
All of these unique interior design ideas are a great way to emulate and spruce up your home interiors with the help of the Cherner Counter Stool. We hope you find something that you really like in here!